GROOTY bikes will soon be available for sale. The certification by the test laboratory is planned for end of 2023. The price of GROOTY frame is same as YGGY frame. You can already contact us to discuss your futur super bike.
Super hero vélo
Grooty was born from the transformation of a super hero tree, guardian of our planet earth, into a character that looks like a vegetable bike, with organic shapes, a clever mix of design and performance.
It communicates by vibration. Enter into resonance with the soft vibrations in unison of wood and carbon, you will form an atypical and formidable duo, capable of overcoming your greatest challenges.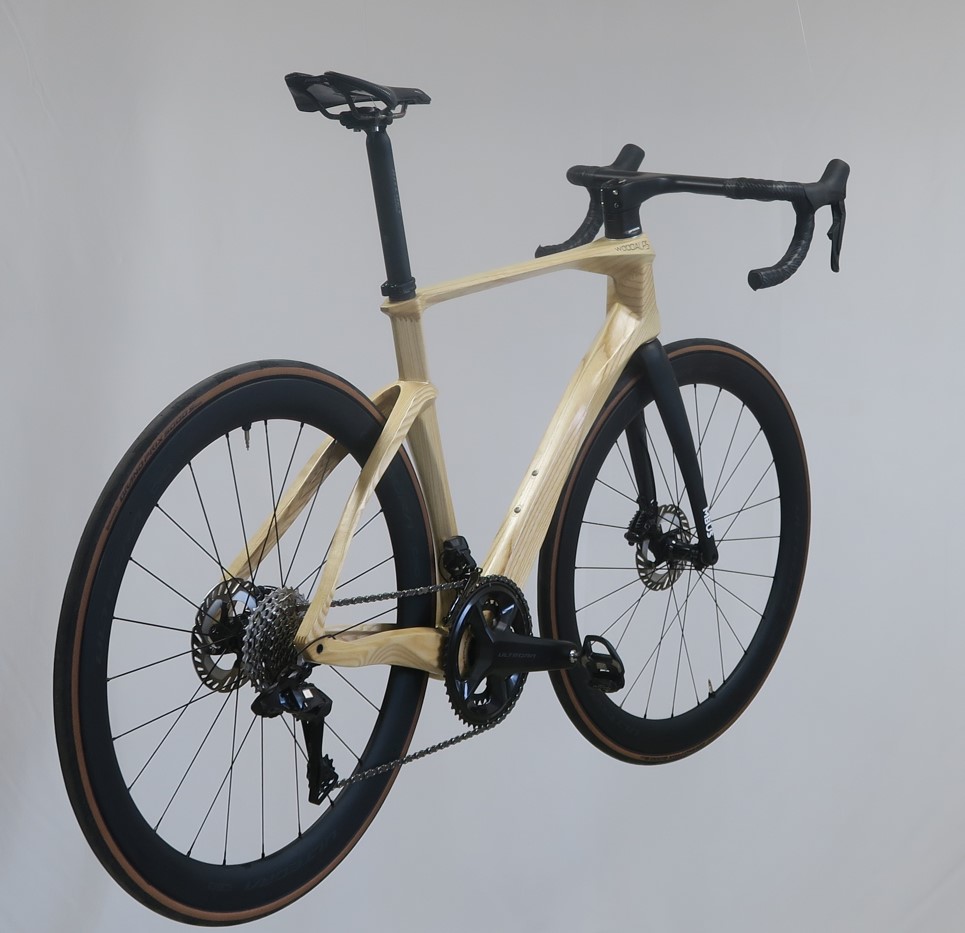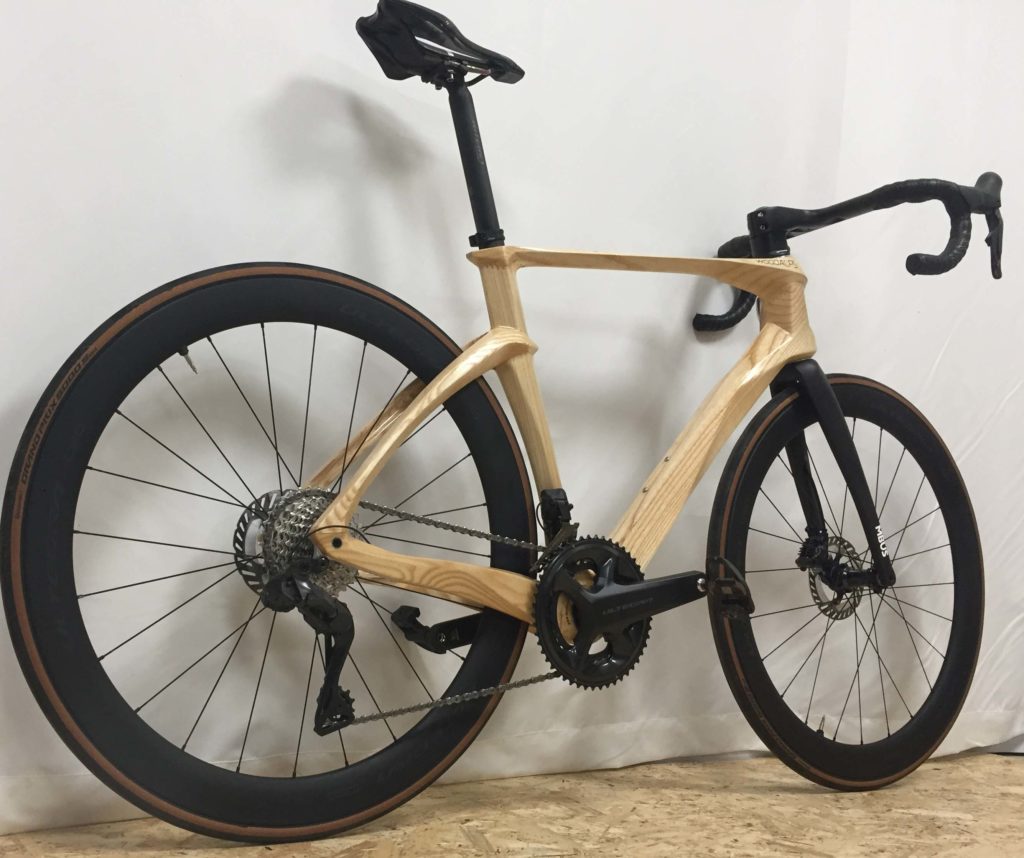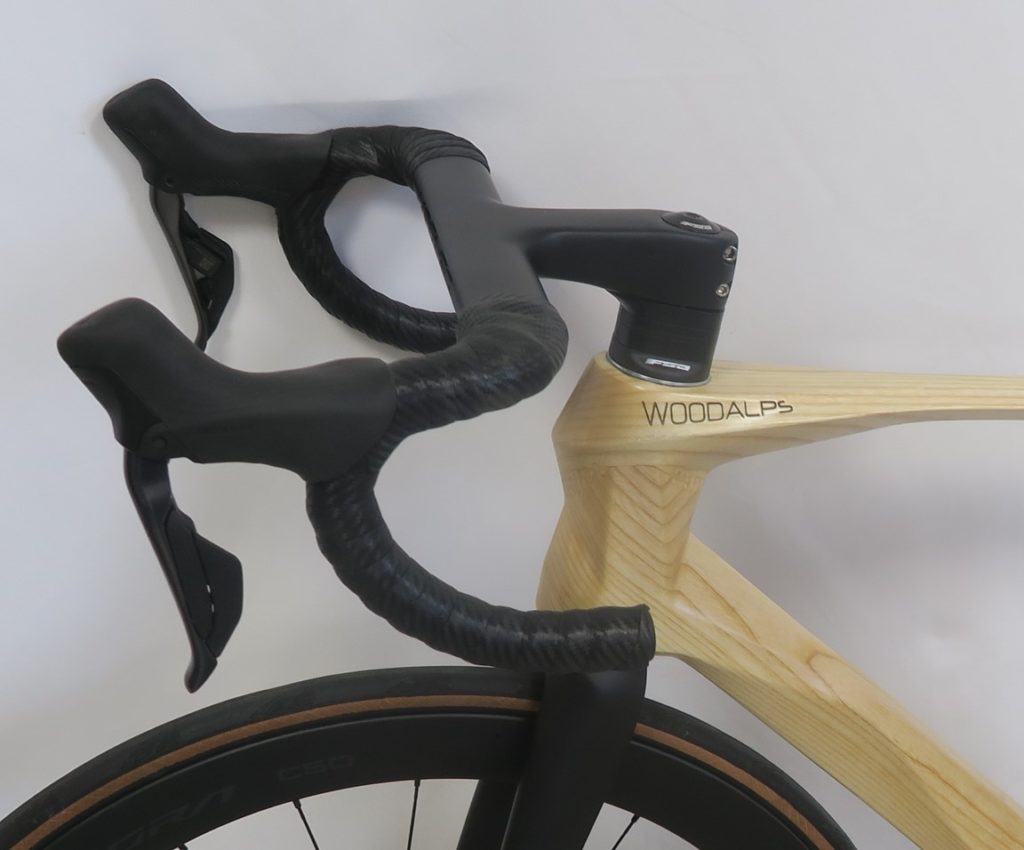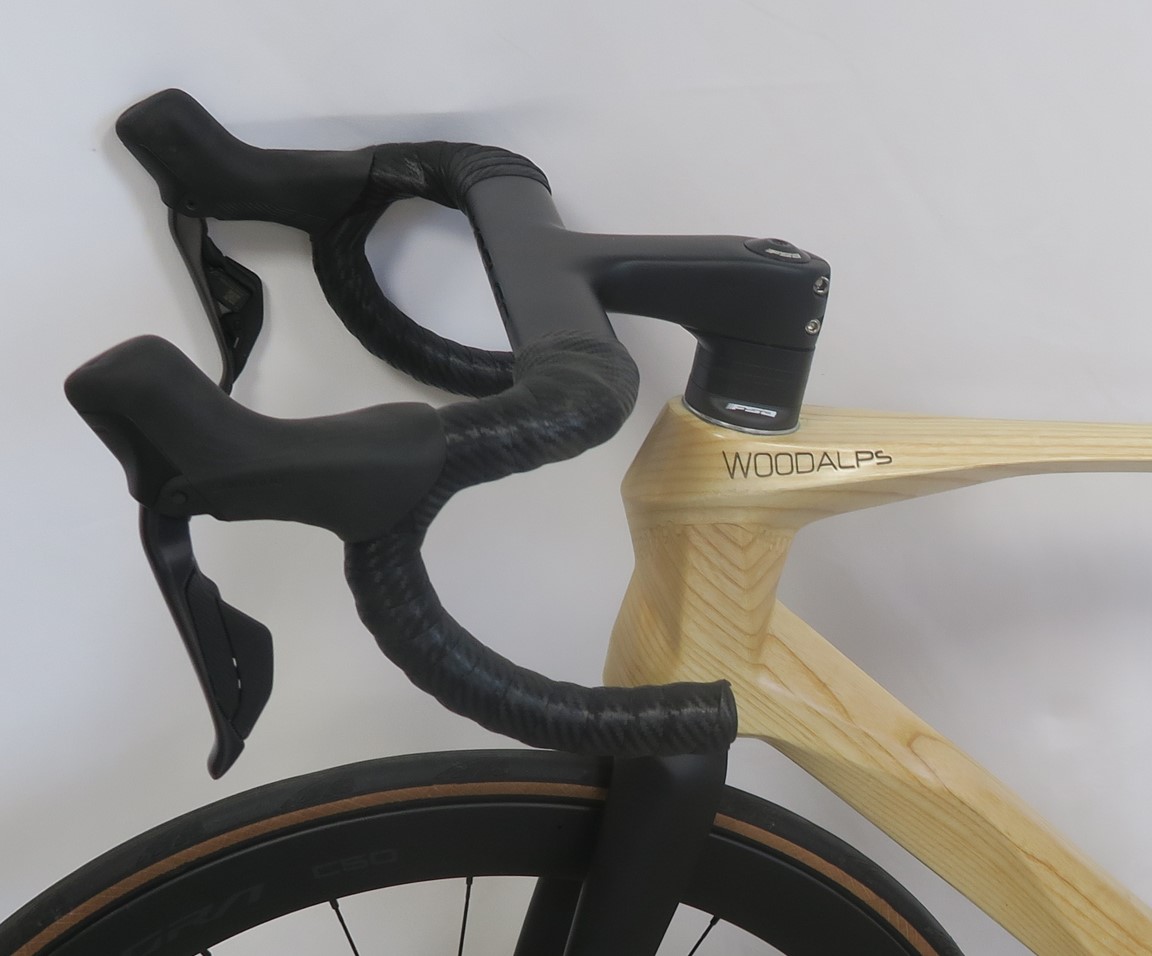 A surprising marriage of technology and craftsmanship
GROOTY wooden frames are mainly made of ash (the only version certified to the ISO 4210 standard for the moment), which has the advantage of being one of the most resistant woods for a reasonable density.
GROOTY wooden bicycles are equipped with state-of-the-art components, with hydraulic disc brakes, wireless electric gear change with more than 1000km of range, integrated carbon handlebar with no visible cables, high profile carbon wheels.
Carbon fiber reinforcements are used at the main interfaces to ensure resistance and reliability at all times.
Let yourself be surprised by the benefits of riding a wooden bike!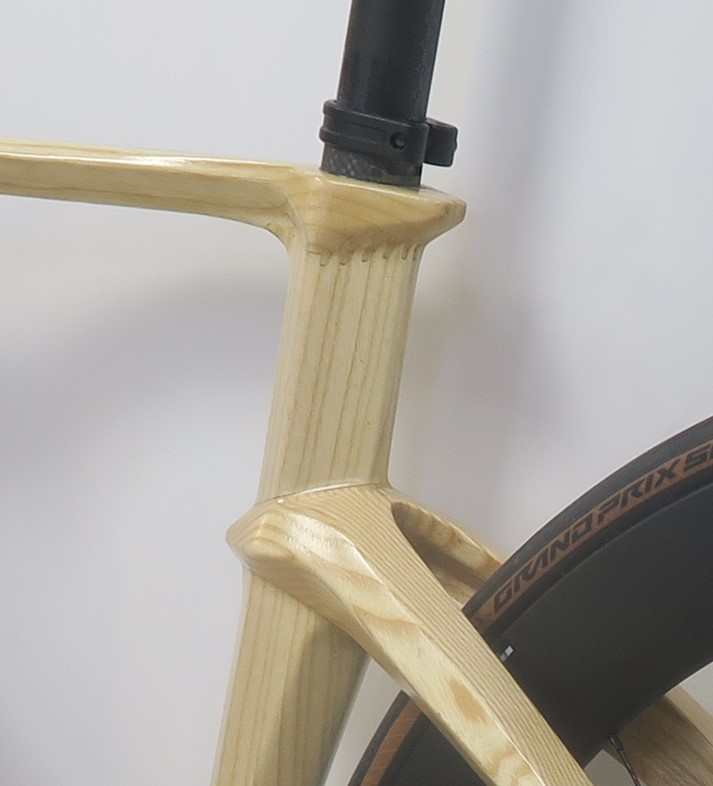 Confortable, reactive, light and playful bikes
The first reaction of all testers is wow….All testers are seduced by the extreme confort and reactivity of the bike.
The frame absorbs more vibration than any other carbon, aluminium, titanium or bamboo bikes.
GROOTY bikes weigh approximately 8.7kg (Sile L, same setup as above, not including pedals).
The frame weighs less than 2.0kg.
The classic geometry inspired by the biggest brands will suit road bike regulars.
The frames are available in sizes S, M, L, and XL, which is rare (and complicated) for wooden bicycle frames.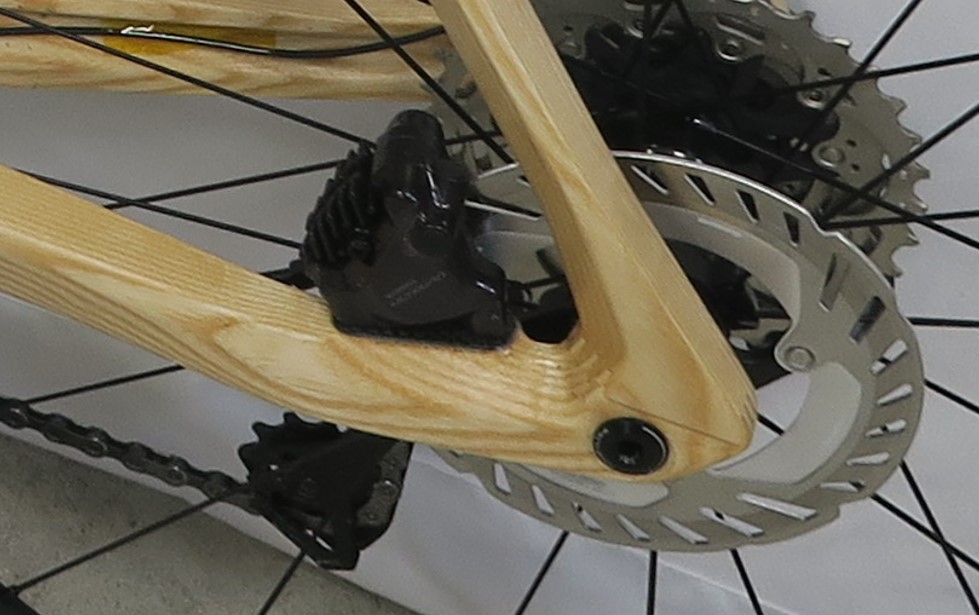 Robustness
The GROOTY frame is made up of 10 pieces of wood, and 4 carbon inserts at the level of the steering tube, the seatpost, the crankset, and the rear wheel axle. Glued joints are discreet, solid and durable and are part of WOODALPS know-how.
GROOTY frames have been tested for 6 years before starting commercialization, both on cyclos, bike commuting, and bike rides.
The classic failure modes on aluminum and carbon bikes do not exist on GROOTY frames, in particular fatigue failure, weak zones in the welds, shocks on the thin layers of carbon.
Your WOODALPS bike should be in good condition in 100 years
GROOTY Bike geometry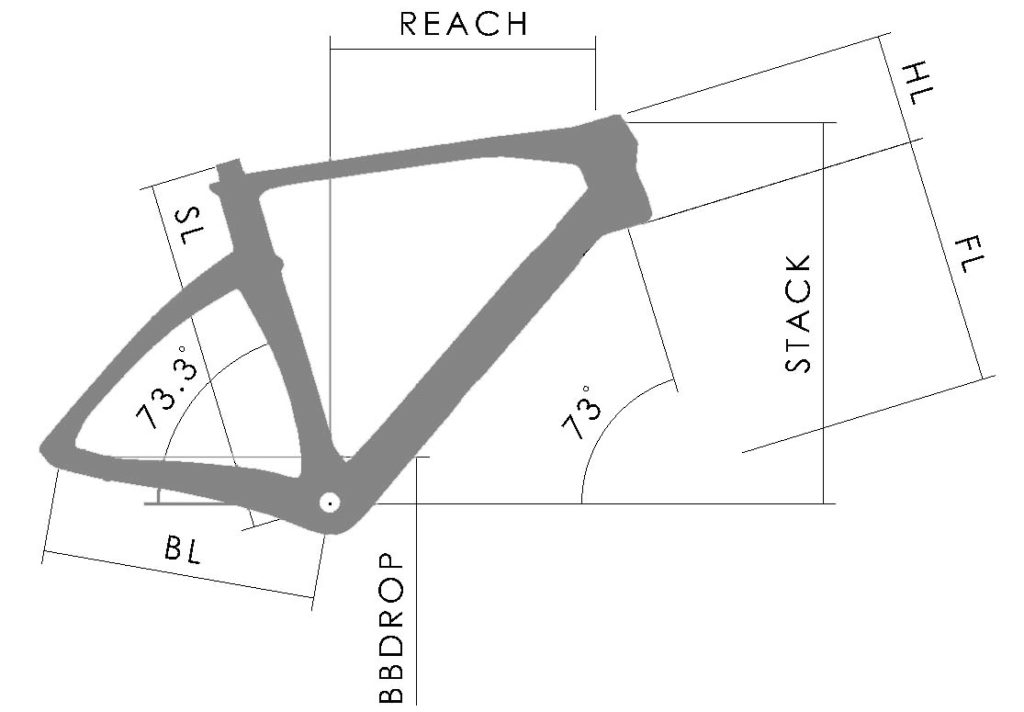 | Dimension (mm) | Code | GROOTY S | GROOTY M | GROOTY L | GROOTY XL |
| --- | --- | --- | --- | --- | --- |
| Stack | Stack | 552 | 559 | 576 | 593 |
| Reach | Reach | 381 | 387 | 393 | 399 |
| Chain stay | BL | 405 | 405 | 405 | 405 |
| Seat tube length | SL | 461 | 493 | 526 | 549 |
| Head tube length | HL | 140 | 146 | 162 | 179 |
| Seat tube angle | SA | 73.3 | 73.3 | 73.3 | 73.3 |
| Head tube angle | HA | 72 | 72.5 | 73 | 73.3 |
| Bottom bracket drop | BBDROP | 70 | 70 | 70 | 70 |
| Fork length | FL | 367 | 367 | 367 | 367 |
| Cranck length | | 172.5 | 172.5 | 175 | 175 |
| Stem length | | 90 | 100 | 110 | 120 |
| Handlebar length | | 420 | 420 | 420 | 420 |
| Rider min size | | 1640 | 1710 | 1780 | 1850 |
| Rider max size | | 1710 | 1780 | 1850 | 1920 |